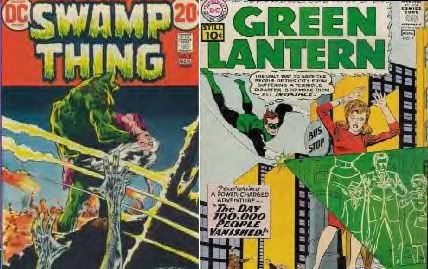 ATTENTION ALL OLD BOOGERS!!!

Does anyone besides me remember way back in the day (I'm talking circa 1981) when Nickelodeon was a new cable channel??? And does anyone remember when they showed comic books on TV??? I'm totally not psychotic here, this really happened. Nickelodeon once aired a show that literally showed an entire comic book (one panel on screen at a time) accompanied by actors voicing the word balloons and (if I'm not mistaken) even sound effects. The comic books were exclusively DC Comics mostly from the Silver Age (with the exception of Berni Wrightson's Swamp Thing of the early 70's). Along with Green Lantern comix pencilled by Gil Kane and Flash comix by Carmine Infantino there was also a plethora of "spacey" silver age DC comics like Mystery in Space starring Adam Strange, Space Ranger or Captain Comet.


I'm completely serious and not dreaming this whole thing. If only I had managed to tape a few of these shows but this was about a year before I got my first (top loading) VCR. Is there anyone who remembers this fun but bizarre programming choice by the fledgling Nickelodeon???? What with Midnighter heading for the New York Comicon and Pax posting Superman meeting Jerry Lewis comic books on his blog, I was reminded of this nearly forgotten moment of my mispent youth.