SIMON MARSDEN: MY FAVOURITE PHOTOGRAPHER.

Not to be one-upped by Ms. Henrietta (and her beautiful collection of artwork posted recently), I thought I'd put up a few examples of the work of my favourite photographer.
Simon Marsden has been around for quite a long time and I have been mesmerized by his photographs for at least 20 years. There's a haunting, terrible beauty captured in these images. Believe it or not, you also have seen his work before. Marsden did the photographs appearing on U2's "The Unforgettable Fire" album way back in the early 80's.
Now, it's kinda obvious why this guy is my kinda shutterbug! After all, he specializes in photographing genuine haunted houses, ruined abbeys, abandoned graveyards, stormy skies, stately mansions, standing stones, crumbling castles . . . and even the burial site of Vlad (Dracula) Tepes. Marsden has captured these forlorn and abandoned, windswept places from the British Isles all the way across Europe.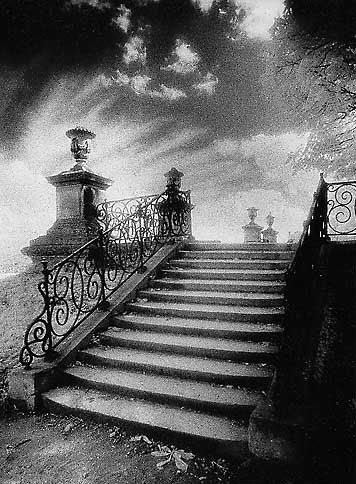 He was knighted a few years ago for his life's work. For years, I have been trying to figure out how he gets that look in his photos. Marsden specializes in black and white photography (although he has dabbled VERY sparingly in color).
The ghostly graininess of the photographs combines with an eerie, glowing quality of anything green and growing (such as moss or ivy or windblown grass). Good ole Maz speculated years ago that he probably used infrared film; this can give green this oddly glowing quality. And sure enough, Marsden has admitted

(on his tremendous website)

this is exactly the kind of film he DOES use (as well as exposures of 15-20 minutes per photograph). Marsden has photographed practically every haunted location of note; from Stonehenge to Glamis Castle (the site of Macbeth) to Dracula's Castle in Transylvania
to Whitby Abbey (as seen in Bram Stoker's novel Dracula) to the Devonshire moors (a la Wuthering Heights). There's a powerful silence in Marsden's photos as well as a sense of eternity which I enjoy very much. That and the maggoty gravedirt!