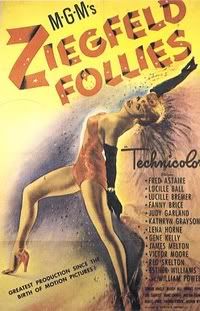 ZIEGFELD FOLLIES - GREATEST PRODUCTION SINCE THE BIRTH OF MOTION PICTURES! Well, not quite but that's what it said on the poster up there. And say, ain't that Lucy got GAMS!!! Just watched the DVD of "Ziegfeld Follies" in the new MGM musical 5 DVD box set. Yeah, well it IS still April and it IS still American Songbook month. I wasn't planning on buying the box set BUT since I WAS interested in getting two of the DVDs that were in it (at $20 a pop, mind you) and the 5 DVD box set was on sale for 49.99 (minus my employee discount) I thought what the hey I might as well spend $10 more and get all 5 -- even though I'd never seen 3 of 'em. Anyway, one of the DVDs included is an all-time favourite: Three Little Words -- but I'll get to that some other time. (The other 3 DVDs include It's Always Fair Weather, Summer Stock and Till the Clouds Roll By and I haven't seen them yet!) Now, on to Ziegfeld Follies. It was good. It's very early technicolor MGM musical and you can tell. And it's deliberately old-fashioned (even when it was made); harking back to the early 20th century musical stage revues of Florenz Ziegfeld (here played once again by William Powell). The movie opens up in showbiz heaven where dead old Ziegfeld wants the chance to put on one more Follies. With all that 40's Hollywood talent running around down there, who can blame him. The whole film then becomes sort of a fantasy of what Ziggy would've done at the time (had he still been sucking breath). Incidentally, Ziegfeld's widow was Billie Burke: the "Good Witch" of The Wizard of Oz. The film itself is plotless; only a series of musical numbers and comedy sketches. Having seen quite a few musicals where you wish the threadbare plot was dispensed with, I can definitely sympathize. The flick took YEARS to make...literally. The first talk started around 1939 and the film itself was made in 1944 but not released until 1946! Why? Well, there were scads of scenes which were planned (and sometimes shot) only to be cut when the preview showing ran to 3 hours. It was made for $3 million (1940's dollars) and, even tho it featured a list of stars as long as your arm, the studio feared a monumental flop (in fact, Fred Astaire wondered if it would ever be released). Well, it was and it was a smash; raking in $5 million. The movie does seem to have been something of a behemoth: multiple directors helmed different scenes when the original director bailed due to production holdups, Judy Garland had no less than 12 different numbers she was supposed to have done before settling on the "Great Lady Interviewed" scene (which in turn had originally been meant for Greer Garson).
Separate scenes were axed featuring Jimmy Durante, Nancy Walker, Gloria DeHaven and June Allyson -- even Fred Astaire himself had a scene cut. There was even a scene dropped featuring Judy Garland and Katharine Hepburn (be still my heart) on a gondola! The shocking, criminal part is that the scenes which were actually shot were tossed and no longer exist. God, what a great feast it would have been restoring all these scenes to DVD; where the hell's my time machine?!?!?! I will admit the songs were a bit of a disappointment; there aren't really any great standards we're all familiar with. In fact, the "Beauty" song that closes the film causes Kathryn Grayson to storm into the head office refusing to do such a lousy song. A voice behind her said, "I wrote it". Grayson turned to find producer (and former songwriter) Arthur Freed standing there. Well, she ended up singing it but she bopped Freed with the script and said "Well, shame on you!" However, Kay Thompson's musical arrangements are top notch (and is that Kay Thompson in the pink feathers singing that she's man-hungry? If it ain't, I don't know who it is but she's a hoot!) The comedy sketches (with the exception of Fanny Brice's scene and Red Skelton's classic "Guzzler's Gin") are also a bit of a disappointment (verging on trying your patience). They're worth watching once, I suppose, but subsequent viewings will require judicious application of your remote control's skip button.
The best sequences in the film are Esther Williams' underwater ballet (always been a sucker for that dame), Fanny Brice's comedy sketch "Sweepstakes Ticket) with Hume Cronyn & William (Fred Mertz) Frawley, a vampish musical number with women in pink feathers or black cat suits
(featuring Lucille Ball wielding a WHIP!) and Lena Horne's "Love" number (probably the best singing moment in the film).

Judy Garland's "Great Lady Has an Interview" is hysterically funny as well as being a great musical number. Plus there's the added bonus of the first screen teaming of Fred Astaire and Gene Kelly dancing together.
That brings me to another disappointment -- all Fred Astaire's dance scenes (except the one with Gene Kelly) pair him with the forgettable Lucille Bremer (WHO? I hear you say. Exactly my point. And the relatively unknown Cyd Charisse was right there in the same picture with him, too! Oh well). And the previously mentioned "Beauty" number which closes the film is saved by the typical MGM spectacle. Kathryn Grayson is one of those warbly, operatic sopranos that get on my last nerves (think Jeanette McDonald or Deanna Durbin) but the chorus girls swamped in mountains of soap suds really saves it. What a bizarre, insane and truly spectacular way to end the movie (and it almost ended the lives of the dancers as well who couldn't breath under all those bubbles)! Cyd Charisse almost broke her neck trying to descend the studio-long MGM stairway up on point in soppy ballet shoes and not being able to see thru all the Lux!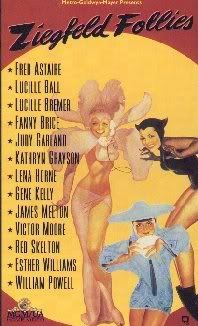 "Ziegfeld Follies" is one of those fantastically over-the-top MGM musicals from the early days which still remains pretty entertaining; it's a multi-tiered layer cake with a WHOLE LOTTA frosting. And all those chorus girls!!! Flo woulda been proud!

Click here to view trailer

!