FOODIES, FLOCK TO THE BOOB TUBE!

Can it be possible that there's something about being on a diet that causes one to obsess about food. Case in point: I am now going to bring up some episodes of TV shows which revolve around food or meals as the main plot device. Sheesh, this guy needs help. No, what he needs is a Krispy Kreme donut and some puddin'! Be that as it may. If I was going to program a day's worth of food/meal themed TV shows, these are some I would choose. (And feel free to add some of your foodie favourites I most likely missed). So here they are...one episode for every hour in the day...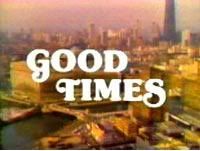 1.

GOOD TIMES (Season 2) "The Dinner Party":

Is the meat loaf made by the Evans' elderly neighbour REALLY made out of dog food?
2.

GOOD TIMES (Season 3) "Florida's Protest":

The meat Florida buys at her local triflin' supermarket appears to be off! 3.

ALL IN THE FAMILY (Season 2): "Edith's Accident":

Edith dents a car with a can of Cling Peaches (in heavy syrup!) 4.

ALL IN THE FAMILY (Season 4): "Archie Eats and Runs":

Edith makes a beef and mushroom stew and possibly gives Archie food poisoning" 5.

ALL IN THE FAMILY (Season 1): "The First & Last Supper":

The Jeffersons invite the Bunkers to dinner...and Archie doesn't want to go. 6.

SOUTH PARK: "Scott Tenerman Must Die":

This episode climaxes with Cartman's EXTRA SPECIAL recipe for chili. 7.

THE HONEYMOONERS: "A Dog's Life":

Ralph wants to market "Kranmar's Delicious Mystery Appetizer"; trouble is, it's dog food. 8.

TO THE MANOR BORN: "Episode 17":

Audrey goes into production with her "Bee-eater's Honey" 9.

THE GOOD NEIGHBORS: "Just My Bill":

The Goods try to sell their surplus fruits and vegetables....and nobody's buying.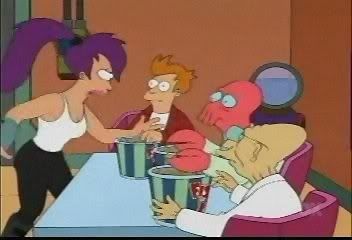 10.

FUTURAMA: "The Problem with Popplers":

Those popplers are crunchy & delicious...and sadly still alive. 11.

FUTURAMA: "The 30% Iron Chef":

Bender decides to become a chef and enter a cooking contest. 12.

TWO'S COMPANY: "The Take-Over Bid":

A married butler/cook team bet they can prepare a better dinner than Robert...and steal his job.
13.

FAWLTY TOWERS: "Gourmet Night":

Basil decides to host a gourmet dinner night at the hotel 14.

M*A*S*H*: "Adam's Rib":

Hawkeye has an obsessive craving for barbecue ribs & decides to place a takeout order to Korea 15.

ARE YOU BEING SERVED?: "Anything You Can Do":

The staff bets they can run the store cafeteria better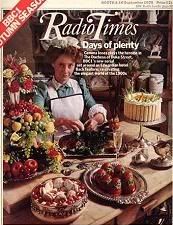 16.

THE DUCHESS OF DUKE STREET: "A Matter of Honor":

A desperate friend of Louisa's begs her to prepare a lavish dinner for friends 17.

MURPHY BROWN: "My Dinner with Einstein":

Murphy agrees to have dinner with a nerdy scientist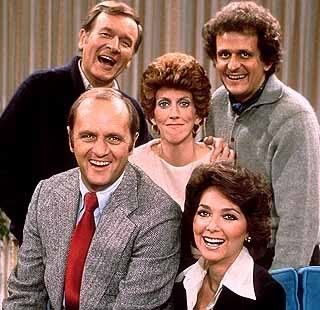 18.

THE BOB NEWHART SHOW: "Over the River & Through the Woods aka Moo Goo Gai Pan":

A drunken Thanksgiving ordering Chinese food 19.

KATE & ALLIE: "The Family Business":

Allie goes into the cake baking business 20.

KATE & ALLIE: "Kate & Allie Lobster":

Kate & Allie attempt to boil some lobsters 21.

RISING DAMP: "Food Glorious Food":

Rigsby bets he can go without food for 3 days 22.

MARY TYLER MOORE: "The Dinner Party":

Mary invites a congresswoman to a disastrous dinner party 23.

ALL IN THE FAMILY: "No Smoking":

Another bet...that Archie can't quit smoking and Meathead can't quit eating
24.

THE BOONDOCKS: "The Itis":

Granddad opens the only soul food restaurant in Woodcrest...and destroys the town's health.
Anyone care to nominate their own food-focused TV show episode??? I'm gonna go get a snack...