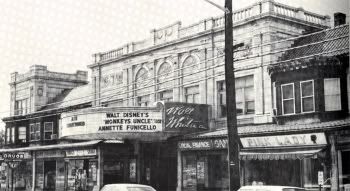 THE WALT WHITMAN THEATER

on Westfield Avenue in Pennsauken was a beautiful old movie theater that opened in 1927. It was designed in what is called the "Spanish-Moorish" style and was one of those old-time "movie palaces" which were so big in the Depression. One of the men who built it was my great-grandfather; he also built the log cabin homes in Medford Lakes as well as the frozen custard stand in Maple Shade (for all you pop art fans of utilitarian buildings). How often I used to walk by the theatre with my grandmother as a kid (on the way to Thor's drug store); my grandparents lived only a few blocks away at 42nd & Westfield Avenue. I do recall that Moe Howard of the Three Stooges made a personal appearance at the Walt Whitman in the early 70's (not long before his death). It was also one of those OLD theaters that had a Wurlitzer organ. The theater was the first in the Camden area to show "talking pictures". As a kid, I also remember the big hub-bub when that new film "The Exorcist" was playing there. I was, of course, much too young to go see such a scary movie but, as a nascent horror movie fan who watched Dr. Shock every Saturday afternoon, my young mind was intrigued.
In 1978, a small electrical fire closed the theater and the license, which came up again in 1979, was not renewed. Around 1981, the venerable old theater was finally torn down so that the town could put up a parking lot. Ah, progress. I hear tell now there is a Walgreen's on the site. Very sad. The theater closed too early for the classic cinema preservationists to save it. But I'll always remember that huge building (which took up the whole block) and the art deco old-fashioned interior. The picture shown here is from around 1965.